What's a Party Without Art?
If you want to do something different and exciting for your child's next birthday party, celebrate at the Taubman Museum of Art! Birthday parties at the Taubman are designed for children ages 2 to 14 years old. They last for 90 minutes, including hands-on art experience in a private studio classroom and time in Art Venture, our hands-on interactive art gallery for children and families.
The Arty Party Package Includes:
Guided art activities in a private classroom. Art materials and supplies provided.
A dedicated Community Engagement staff person who will stay with you throughout the party and lead the art activities.
Exploration of Art Venture, the Museum's innovative exploratory gallery for youth and families. Visitors to Art Venture can paint, draw, build, connect music with art, investigate 3D printing, create sculptures, display artwork, dress up in costumes, put on puppet shows, and much more.
Dedicated time for cake or refreshments.
Ready to Book?
PARTY TIMES
Saturdays: 10:30 am – 12 pm, or 2:00 pm – 3:30 pm; Sundays: 2:00 pm – 3:30 pm
PARTY COST
$260 with Family Membership
$325 Non-Members
30-Minute Extension: $50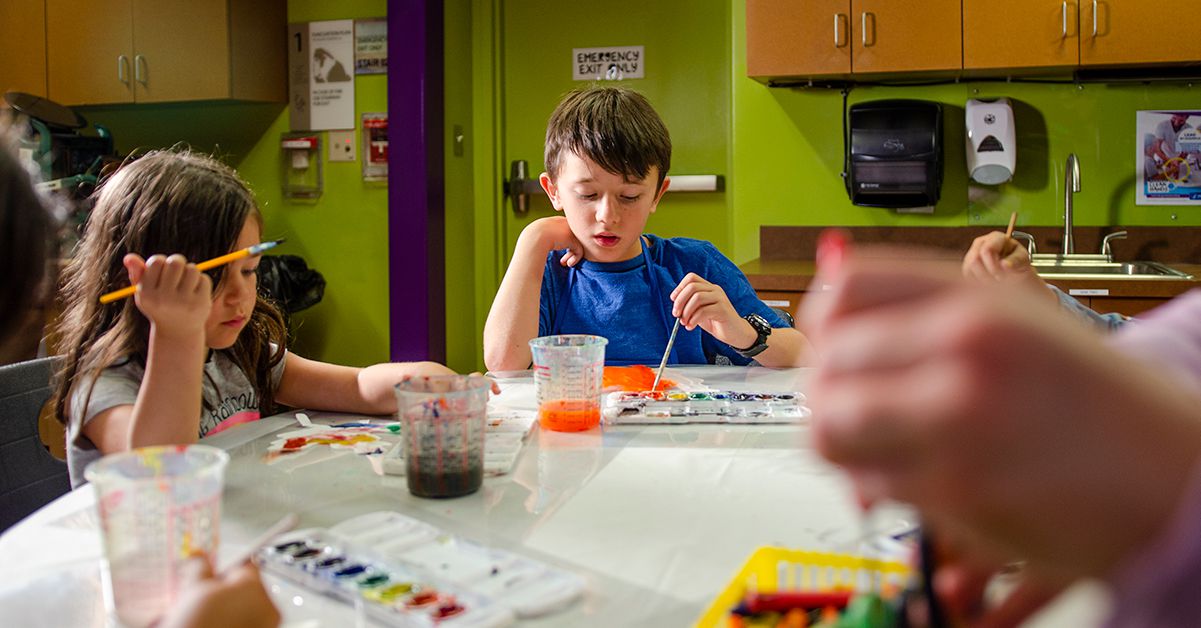 JOIN THE TAUBMAN
Receive a Family Discount!
Museum Members are treated to exclusive discounts on arty parties, art classes, and summer camps, and are invited to appreciation events such as exhibition previews. If you are not a member, sign up for a family membership when you book your party, and you will enjoy additional membership benefits for the rest of the year!
JOIN TODAY
PARTY PLANNING
Birthdays parties require a minimum of 10 participants and a maximum of 20. A deposit of half of the party cost will be due at the time of booking. There is no additional charge for materials.
Adults are free. One adult is required per 5 children. Under no circumstances may a child be dropped off unescorted at the Museum entrance.
It is recommended that you book your party at least 3 weeks in advance to secure your preferred date and time. Prior to making a deposit, a date may be held for no more than 24 hours. Once a deposit is received, the date is reserved. Certain dates may be unavailable due to holidays or the scheduling of other Museum programs.
On the day of the arty party, feel free to provide birthday cake (no candles, please), beverages, and decorations. Our classroom is used for many events and we have artwork and posters on the walls, but you may bring tablecloths, banners, table decorations, etc. if you wish.
If you are not a member, sign up for a family membership when you book your party, and you will enjoy additional membership benefits for the rest of the year!
Booking Information
Please contact the Museum at (540) 342-5760 to book an arty party, or if you have questions about your event.
Fine Print
Cancellations must be made 14 days prior to the day scheduled to receive deposit refund.
Parties begin promptly, and unfortunately, the party time cannot be extended if party participants show up late.
Free or discounted admission passes, coupons, and promotions cannot be used for birthday parties.
To protect the art and the Museum, the following items cannot be used: balloons of any kind, candles, propane, and confetti. In addition, the children's creations from the hands-on activities help create a festive atmosphere. If you would like to bring in additional decorations, please confirm in advance.
Please do not provide catering, pizza, or food favors. If you are providing goody bags that include food items, please open them after leaving the Museum.
INCLEMENT WEATHER POLICY
In the event of inclement weather, you may call ahead to reschedule your birthday party at no extra charge. If the Museum closes on the day of your party due to unexpected weather, you will receive a full refund and may reschedule your party if you wish.