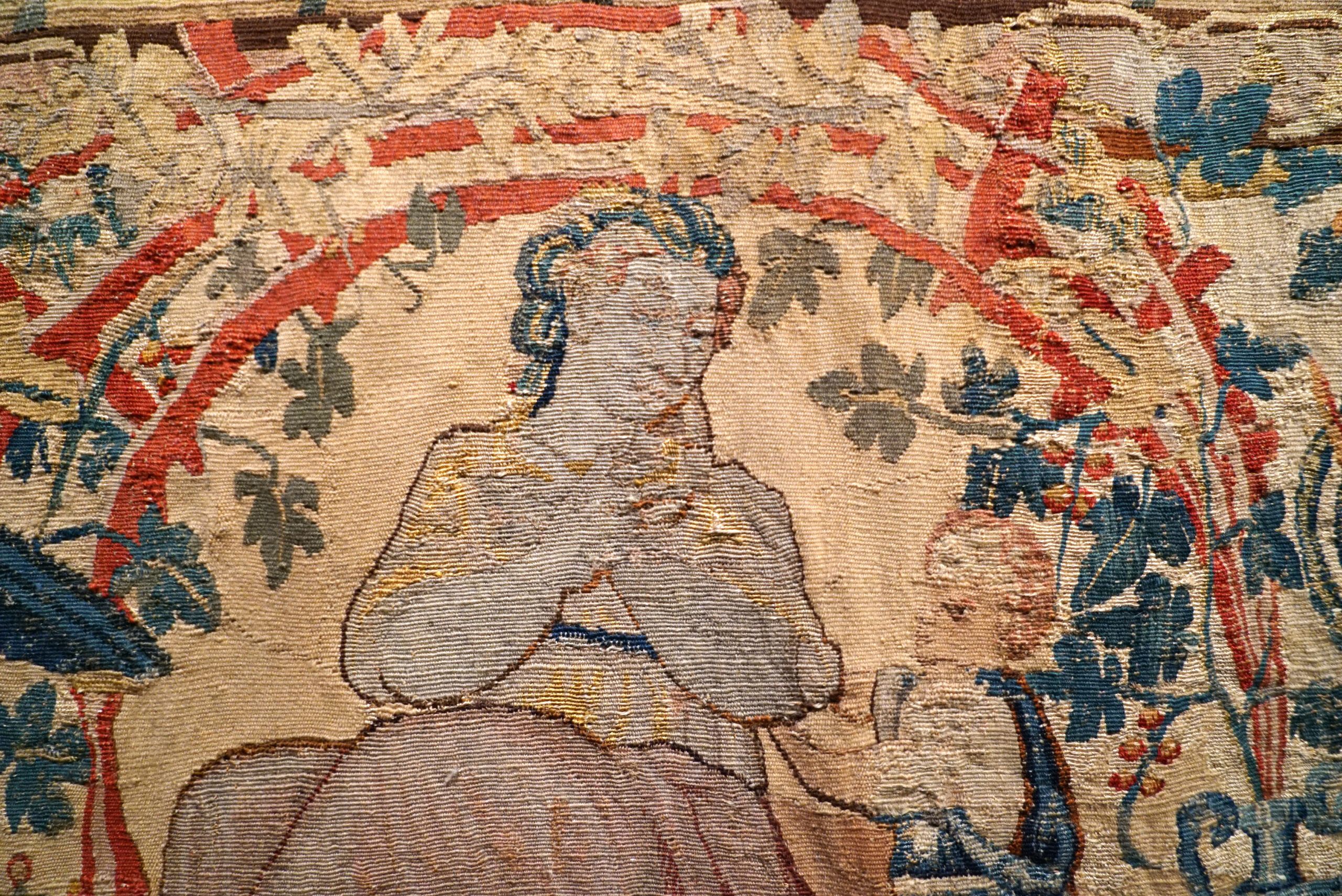 16th Century Flemish Tapestry from The Hodges Family Collection
Jan 02, 2021 – Nov 14, 2021
The Taubman Museum of Art takes great pride in this unique opportunity to study and exhibit a rare 16th-century Flemish tapestry on loan from The Hodges Family Collection.
Dr. Daniel Lee Hodges and Mrs. Stephany Colvin Hodges are longtime and steadfast supporters of the Museum. In past years, works from The Hodges Family Collection have been on view for the public's enjoyment, including a major exhibition of exquisitely designed Fabergé objects. The Hodges family's generosity in sharing their extraordinary works of art with visitors to the Taubman Museum of Art and audiences in the Blue Ridge region is greatly appreciated.
The story depicted in the tapestry is the opening scene of The Iliad, an epic poem written by the ancient Greek writer Homer in 800 BCE.
The Iliad starts in the tenth year of the Trojan War fought by an alliance of Greek city-states against the fortified citadel of Troy. The conflict began when Paris, a Trojan prince, abducted the beautiful Helen, wife of Menelaus, who ruled in Greek Sparta. More specifically, the tapestry illustrates the first passage within The Iliad when the commander of all the Greek forces and brother of Menelaus, King Agamemnon, was implored by Chryses, a priest of the god Apollo, to return his daughter Chryseis, who was captured as a war prize.
This abduction angered the god Apollo, who spread a plague amongst the Greek armies. Though he strongly resisted advisors, Agamemnon eventually agreed to return Chryseis to her father's protection. However, he instead took as compensation another captive woman named Briseis, who had been awarded to the greatest warrior among the Greek armies, Achilles. This act greatly offended Achilles, and, until Briseis was returned, he refused to fight with the Greek forces to secure victory in the long war against Troy.
The Hodges Family Collection tapestry has a rich history to explore, and a Taubman Museum of Art two-week Virtual Summer Experiential Learning Opportunity in 2020 with 18 college and graduate students focused on the study of this work. These young scholars had the opportunity to research a major artwork, connect with trained museum professionals, speak with the collector, as well as create art education activities to coincide with this exhibition.
Tapestries created during the 16th century — or Early Renaissance — had a number of purposes, both practical and aesthetic. Tapestries could be moved easily to decorate walls, or for display during festivals. Very practically, tapestries were used to insulate drafty castle residences and cathedral interiors.
Tapestries were also "symbols of rank, wealth, and power, and effective sources of propaganda often made to order for the religious and political elite." They were often commissioned to represent the noble traits valued within courtly life or favorable characteristics emphasized by ecclesiastical orders.
And like other art of the time, tapestries also had the important role of storytelling. Like iconographic schemes of large stained-glass windows found in churches, tapestries tell a story visually.
Because a majority of citizens did not know how to read or write, art of all kinds played an important role in visual storytelling. Creating pictures or enacting a performance were key ways of sending messages to those who did not read the written word. This could be used to spread court propaganda as well as sacred dogma. Large, awe-inspiring tapestries with intricately woven details were an effective and powerful way to convey a message or share a narrative. Interestingly, many stories told within tapestries were drawn from classical mythology.
EXHIBITION PREVIEW
SELECTED WORKS
Revisit the Exhibition
Explore the exhibition with this 3D, interactive tour powered by Matterport.