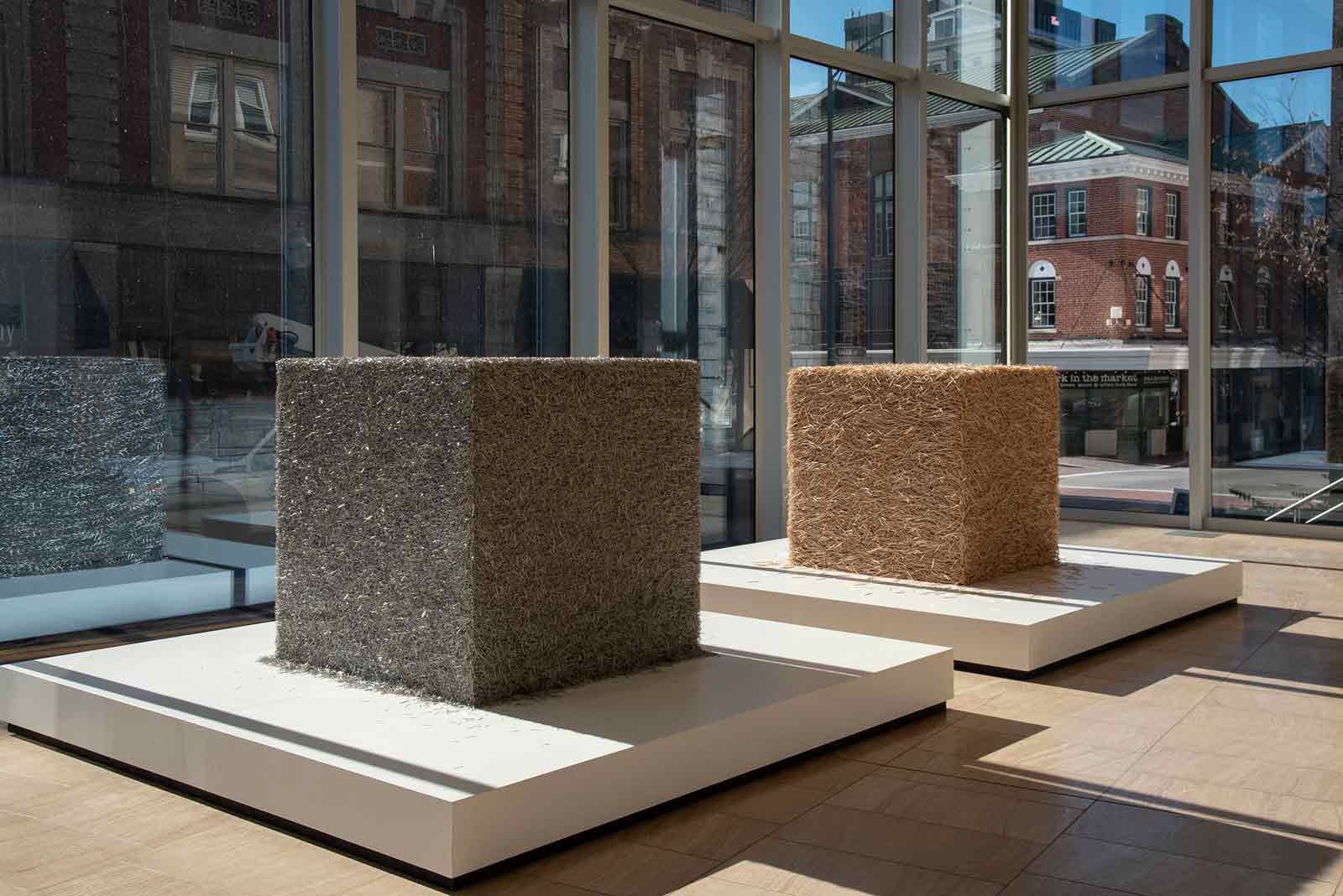 Nov 30, 2018 – Dec 28, 2025
Brooklyn artist Tara Donovan is known for amassing small objects from ordinary life into unexpected forms, such as undulating clouds born of styrofoam cups, wintry landscape installations built from white plastic drinking cups, and stalagmite accretions of lavender buttons.
In the two untitled works at the Taubman Museum of Art, thousands of straight pins form one three-foot cube, while thousands of toothpicks compose a similarly sized cube. For installation, technicians use a mold into which they pour and repeatedly settle and press down the toothpicks or pins. Then friction, density, and gravity hold the cubes together.
Depending on light and distance, the toothpicks and pins take on the aspect of completely differently materials. The pins, for example, scintillate and sparkle under direct light; while, under other conditions, they may appear as a bristly fur or porously fibered resin casting.
The seed for Donovan's toothpick and pin cubes occurred when she dropped a box of toothpicks and saw that those most tightly packed in the box remained clumped together on the floor. She then began to experiment with packing toothpicks together into larger and larger forms.
While many of Donovan's large-scale sculptures and installations feature natural forms, the current pair look back to the 1960s Minimalist movement, both through their cubic shapes and repetition. Unlike the hard perfect cubes of Minimalism, however, Donovan's dense cubic entities possess a refreshingly organic and fragile side, suggesting their eventual dissolution through the stray toothpicks and pins that have already been shed and fallen to the ground.
EXHIBITION PREVIEW
SELECTED VIEWS