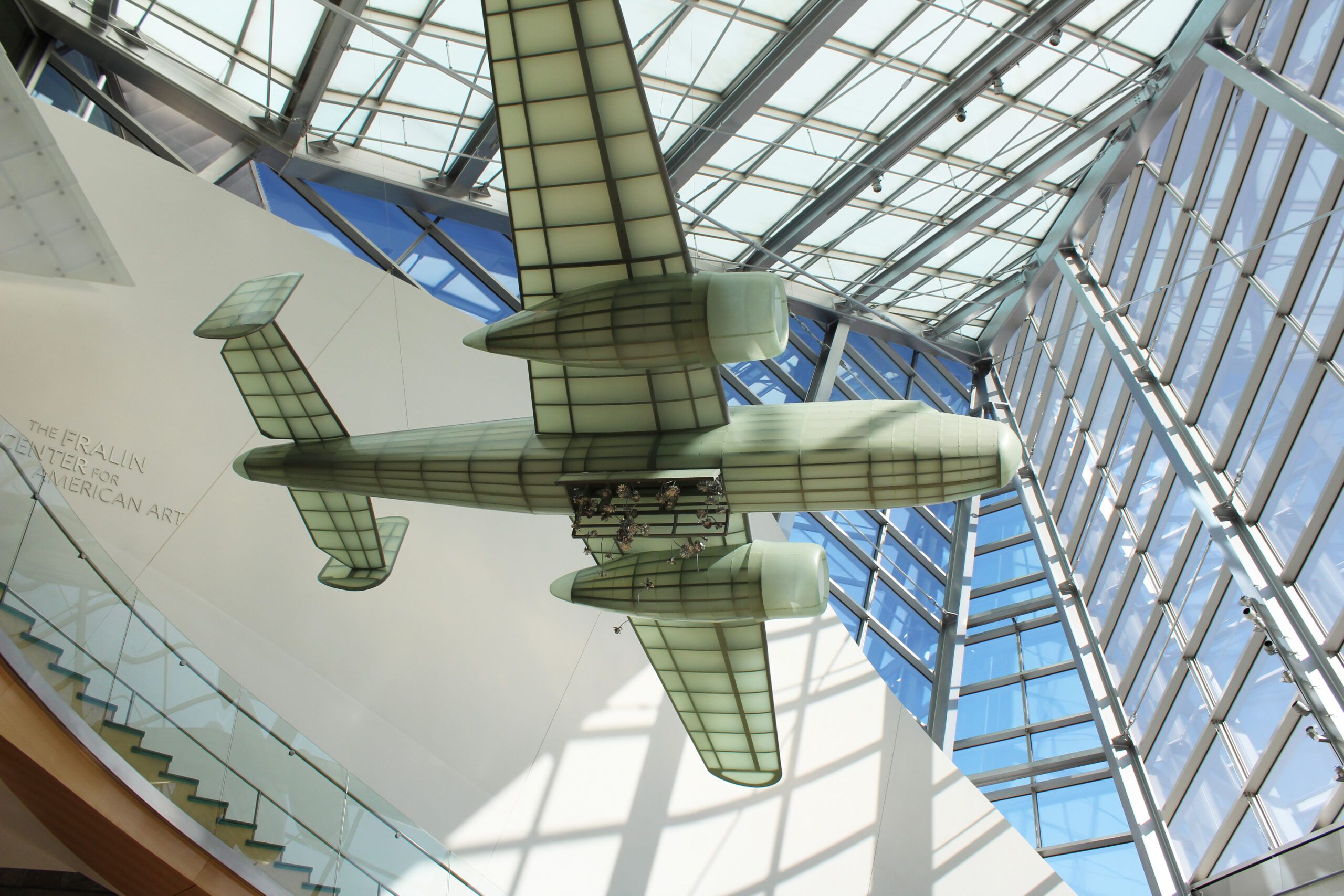 Paul Villinski: Flower Bomber
Feb 08, 2018 – Mar 01, 2020
As the son of an Air Force navigator, New York-based multi-media artist Paul Villinski is an experienced pilot.
Villinski comments, "Now and then, I have the extraordinary luck to spend a few hours floating along on currents of warm air, the earth's surface slipping silently by, the mundane anxieties of daily life thousands of feet below the long, white wings of my glider. Back in the studio, I wish I could bring everyone I've ever met along in the tiny cockpit of my sailplane."
For his new site-specific atrium installation Flower Bomber, Villinski created a scaled-to-size World War II bomber airplane in the Museum's three story atrium.
"I had an image in my head of a large aircraft sculpture suspended in the space, based on a WWII airplane called the B25. This would be a "bomber" and the bomb bay doors would release a huge stream of flowers suspended with monofilament, streaming from the airplane to the floor below, where they would accumulate into a large pile."
Flower Bomber transforms a weapon that was considered a symbol of violence into an emblem of beauty.
Villinski's site-specific installation continues an ambitious and experimental atrium program established by the Museum in 2010. This program invites artists to create new work that stretches the limits of their production while offering them compelling opportunities to explore fresh ideas in their work.
Paul Villinski: Flower Bomber is supported in part by the Foundation for Roanoke Valley.
EXHIBITION PREVIEW
SELECTED WORKS