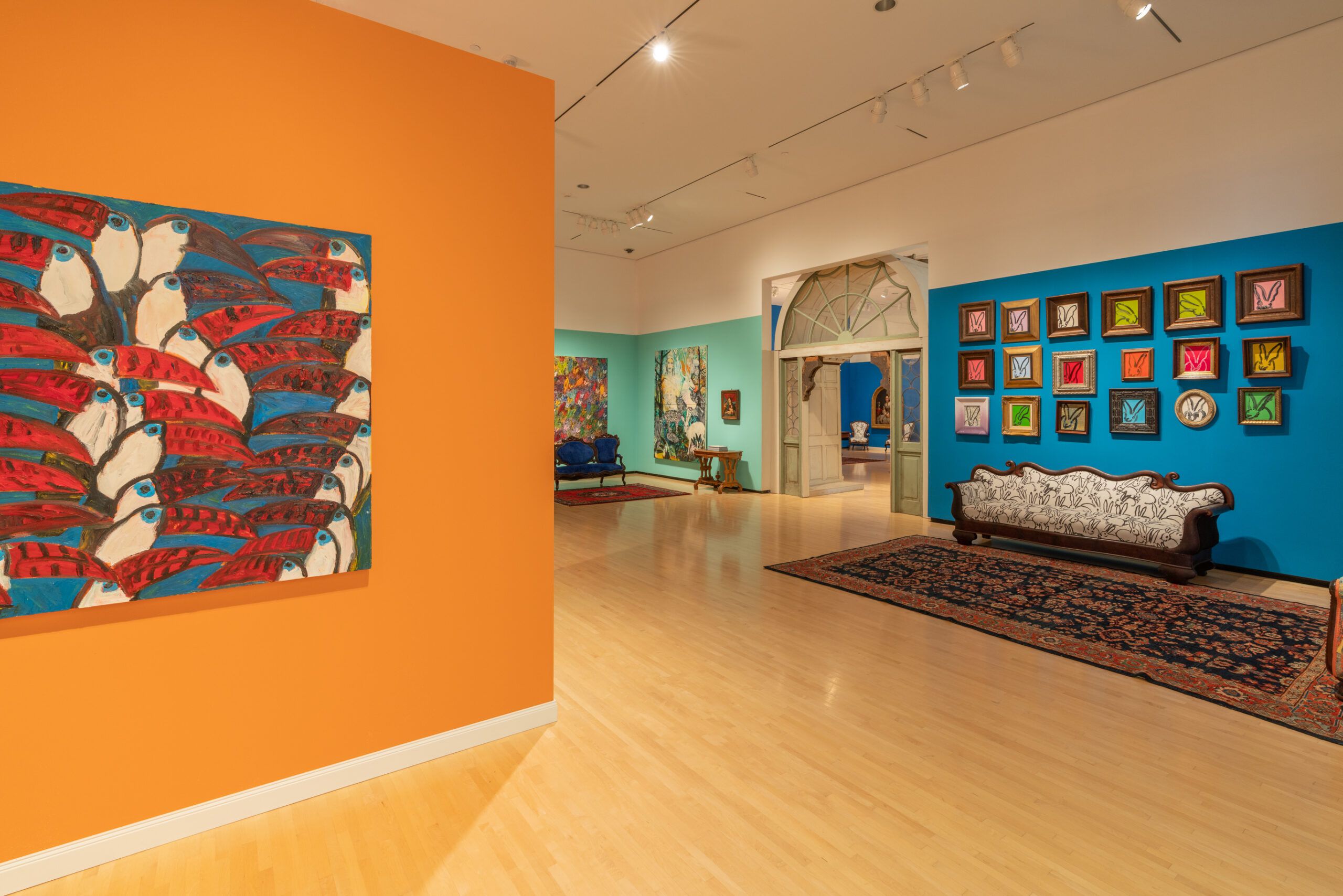 Oct 24, 2019 – Mar 29, 2020
Hunt Slonem's HUNTOPIA is a world comprised of nearly a dozen extravagant vignettes from the internationally renowned painter and installation artist. Inhabiting two sizeable galleries, this exhibition delves into Slonem's artwork and textiles, culling from local institutions, museums, and private collections to fully explore Slonem's broader installation sensibility, evolving out of Slonem's practice of acquiring and restoring national historic properties, which he saves from neglect and fills with wild combinations of his artwork and 19th-century antique collections.
An ode to Slonem's passion for "Collectorating" — the artist's term for his signature style of collecting and curating — HUNTOPIA is an amalgam of Victorian-era paintings and antique furniture alongside a survey of Slonem's own exuberant paintings dating from 1983 to present day. Much like Andy Warhol's Raid the Icebox I exhibition at the Rhode Island School of Design in 1969, Slonem expounds on the artist-as-curator concept. In the words of art collector Dominique de Menil, "Sunday visitors roam museum galleries lost and bored…. If critics and scholars can open many doors, only seers and prophets open the royal gates…. For what is beautiful to the artist, becomes beautiful."
Born in 1951 in Kittery, Maine, Hunt Slonem was the son of a Naval officer, whose frequent relocations gave young Hunt a great love of travel. Hunt spent his formative years in Hawaii, and his studies and expeditions have spirited him from the eastern United States, to Central and South America, the Caribbean, South Asia, and beyond. Ultimately alighting in New York City, Slonem maintains a studio in Brooklyn, with seven restored homes in Louisiana, Pennsylvania, and New York state. Slonem's experiences with the customs, religions, flora, and fauna of the world have led him to use the term "exotica" in reference to his work. His lush artistic visions are as multifaceted as his travels, seamlessly interweaving hundreds of bunnies, some sprinkled with diamond dust, and thick black-and-white graphic stripes allied with undulating swarms of butterflies and birds. Slonem's deities and muses range from mystical countesses to stoic American presidents communing with gentle-faced saints and Buddhas ensconced in flowers and surrounded by animals. The form most beloved of all, "Animalia," infuses every element of Hunt's world, sometimes subtly seen pressed into velvety fabric or obscured among hundreds of crosshatches in paintings.
At first sight of the galleries, visitors encounter an enormous gold wall populated by black bunnies, wallpaper from Slonem's line of textiles. The artist's paintings and designs are notoriously overwhelmed by bunnies, the origin of which can be traced back to paintings such as Jesus Christ from 1989 which resides in the Taubman Museum of Art's permanent collection and is on display in HUNTOPIA. The artist begins each day with painting exercises reflective of chants or mantras, in which he gesturally populates several 8×10-inch canvases one bunny at a time. Two walls in HUNTOPIA are dedicated to over fifty of these bunnies.
The exhibition's scenes include a dining room, parlor, bedroom, and several intimate nooks, punctuated by a bright red séance room dedicated to Slonem's muse, Abraham Lincoln. Decked with top hats, candles, and a crystal scrying ball, Slonem's séance room pays homage to the practice of spirituality in the mid-19th century, which was observed in the Red Room of the White House by Mr. and Mrs. Lincoln.
Small treasures abound throughout the exhibit, including Asian ceramics generously gifted to the Taubman Museum of Art by the Estate of Peggy Macdowell Thomas, niece of famed American painter Thomas Eakins. Joining the array of artworks are Slonem paintings from the Eleanor D. Wilson Museum at Hollins University, the Maier Museum of Art at Randolph College, Olin Hall Galleries at Roanoke College, and the private collections of David R. and Susan S. Goode and John and Kate Turbyfill. The decadent scenes are structured by furniture sourced from the History Museum of Western Virginia, Salem Museum & Historical Society, and the private collections of Sam Krisch, Julie Lawrence, and Rudy and Ellen van Thiel. From his own furniture collection, Slonem features a Neo-Gothic bench upholstered with his turtle shell fabric and a Rococo Revival mantel carved from Italian Carrara marble, among several other striking pieces from Slonem's personal collection. The structural centerpiece is a massive wood-and-glass arched structure courtesy of Black Dog Salvage. Once a stately bank entrance, it now serves as a grandiose walkway from one gallery of HUNTOPIA to the next.
With nods to the exotic birds of Hawaii, gilded frames of the Victorian era, Pop art as mantra, and the dewy romance of Louisiana, Hunt Slonem wants most of all to impart some measure of joy to each visitor "Upliftment, peace, and awareness of the magnificent natural world" — along with his great affection for the Roanoke community, whose camaraderie and contributions have made the world of HUNTOPIA real.
— Eva Thornton, Co-curator
EXHIBITION PREVIEW
SELECTED WORKS