Betty Branch, A Retrospective
Sep 02, 2022 – Mar 05, 2023
This comprehensive look at the expansive career of beloved local artist Betty Branch is drawn from the Taubman Museum of Art's permanent collection, private collectors, and the artist herself, examining the evolution of Branch's artwork and processes.
The exhibition follows the trajectory of Branch's career, focusing not only on her exploration of female form, rites of passage, and personal experiences metaphorically portrayed, but on her mastery of a wide array of additive and reductive sculpture in wax, clay, fiber and stone.
Through February 12, Branch's rich history will be featured through a large installation of a portion of her studio including sketches, maquettes, tools, clippings, and inspirational objects produced and collected throughout her career, providing an intimate peek into the brilliant mind of Betty Branch. The other galleries featuring her work will remain on view through March 5.
A companion catalogue is available for sale in the Museum's gift shop.
EXHIBITION PREVIEW
SELECTED WORKS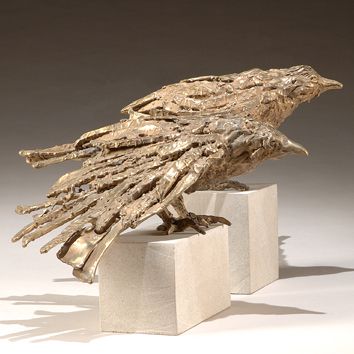 Betty Branch (American, born 1934), Stretch I and II, 1998, Bronze, Gift of the artist, 1999.027 and 1999.028